Telehealth Technology for Seniors: Our New Norm?
May 10, 2020 by Intuition Robotics Team
To state the obvious, these last few months we've endured some turbulent, unprecedented times that have been tough on us all. As COVID-19 has spread throughout the globe, social distancing has dramatically changed our lives in what feels like the blink of an eye.
Businesses and restaurants we previously frequented have shuttered their doors, and millions of people have been cooped up inside, sheltering in place at home in an effort to help flatten the curve.
As tough as things have been thus far, we need to look on the bright side — we've done an amazing job of adapting in such a short amount of time.
Turning to technology throughout this situation has made all the difference, and we've quickly adjusted to our new circumstances, creating feasible online options for just about everything we did before — from work and learning, to groceries, and, perhaps most importantly, our health care.
As COVID-19 patients flood hospitals and doctors' offices, the way in which we get in touch with and visit our doctors has also evolved — and thanks to burgeoning telehealth technology and the Centers for Medicare and Medicaid Services' decision to temporarily waive rules for telehealth, virtual appointments have become easier and more accessible than ever.
For older adults — especially those living on their own — these services are even more crucial, and many industry leaders, such as AARP, predict the demand for telehealth options will only continue to grow going forward.
In this post, we'll explain everything important to know about telehealth and telemedicine when it comes to seniors, including what telehealth technology entails, why it's so necessary, potential applications for this type of technology, and why it should become our new norm — now, and long after this pandemic ends.
Telehealth vs. telemedicine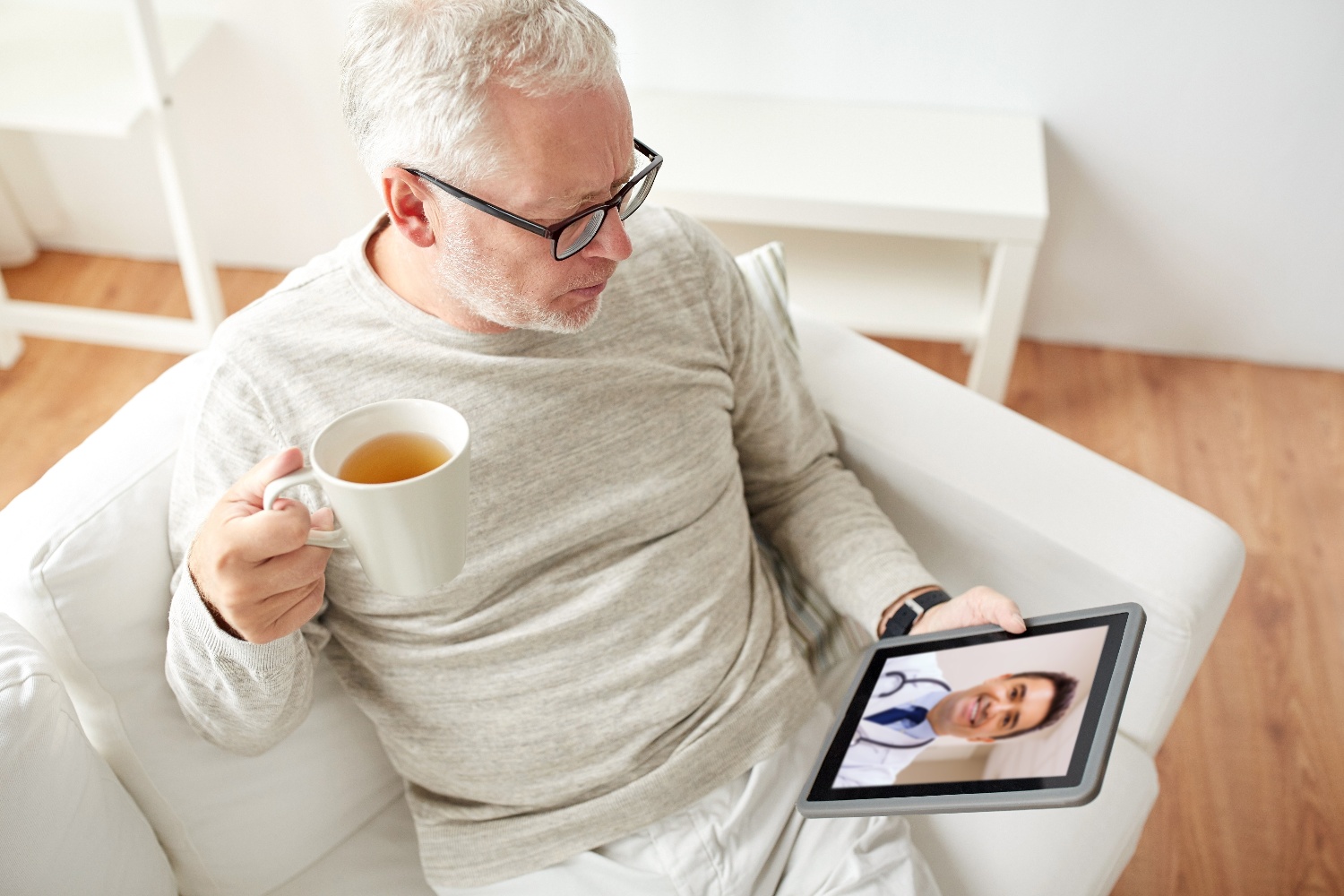 Before we go any further, let's define these key terms, as there still may be some confusion regarding the difference between telehealth and telemedicine. MayoClinic defines telehealth as "the use of digital information and communication technologies, such as computers and mobile devices, to access health care services remotely and manage your health care. These may be technologies you use from home or that your doctor uses to improve or support health care services."
Essentially, it's more of a blanket term for any form of digital health application or platform, method of communication, or service pertaining to health and/or health care. Telemedicine, in contrast, refers to the actual health care visits or appointments themselves (i.e. exchanges between doctors and patients) done remotely, primarily via video chat platforms.
Telehealth has been needed for quite some time
According to Ann Mond Johnson, CEO of the American Telemedicine Association, the concept of telehealth has been around for over 25 years. So why has telehealth become so important now, especially for seniors?
As far as modern health care goes, we've always needed to see our doctors on a regular basis — and for older adults or those with chronic conditions, frequent visits and check-ups are even more crucial.
Yet unfortunately, the conventional ordeal of physically getting to the doctor can be rather cumbersome for many older adults — both in terms of standard check-ups and emergency visits.

While this can be due to a number of factors, the most common barrier is inaccessibility, whether it's a lack of reliable transportation, the inconvenience of traveling to and from appointments, or long wait times due a lack of nearby options (especially for those in rural areas).
Or, as we're seeing now, patients staying home to avoid the risk of infection. It's a shame that the population that needs to see their doctors the most often tends to face the most difficulty in doing so.
Fortunately, telehealth can ameliorate practically all of these frustrations, so accessibility is no longer an obstacle older adults need to worry about. With telehealth, they can visit and communicate with health care professionals more regularly and conveniently, all from the comfort of their own homes.
The benefits of telehealth technology for seniors
Think about it — wouldn't you rather message your doctor for your prescription refill, or quickly video chat with them about a question, than have to commute all the way to and from their office?
Now imagine how much less inclined you'd be to do so at the age of 80. Telehealth eliminates the need for unnecessary travel to and from appointments, opening the door to more convenient, frequent access to health care for seniors than ever before.

Other significant benefits pertinent to seniors include: increased comfort and ease, the ability to engage in visits they might not otherwise be able to (such as, with a specialist that's based thousands of miles away), reduced costs (as well as elimination of transportation costs), faster answers to their questions, access to prescriptions, increased levels of satisfaction, better quality of care, and much more.

Health care providers would be able to perform tasks they weren't able to before, such as quickly consulting with other doctors during patients' visits, thus reducing delays and the need for additional patient visits later on.
Since physical barriers would no longer be an obstacle, patient no-shows could be dramatically reduced, saving them time and money. They'd also be able to increase efficiency, and see more patients per day — as more frequent appointments and patients logging their data online ahead of time would likely result in much shorter visits.
Telehealth use cases
The potential applications of telehealth are extremely robust. Some of the most notable use cases most pertinent to older adults include, but aren't limited to:

Real-time virtual visits. This would most closely replicate an in-person doctor's visit. In a nutshell, this involves an exchange in real-time between the patient and their health care provider via video chat, to address whatever the patient's needs and/or concerns are.
Remote patient monitoring (RPM). There are a variety of ways in which health providers could use telehealth technology to monitor patients from afar. Typically the patient would log certain health credentials (such as their weight, nutrition, blood glucose levels, etc.) into an app or website, and their health provider would be able to remotely monitor and track these over time.
Symptom detection. With telehealth, health care providers could easily detect, diagnose, and treat more common issues — such as a cold or mild infection — based on the user's symptoms and data, saving everyone the time and energy of coming into the office.

Long-term care. Telehealth could also be extremely beneficial for older adults in need of long-term care options, such as visiting nurses. Patients would not only be able to contact a health care professional more frequently, their caretaker would also be able to easily log, automate, and monitor their behavior, routines, pills and medicine, and much more.
Chronic disease management. For older adults with chronic diseases like arthritis, dementia, or diabetes, telehealth technology would provide them with a way to check in quickly and more often, and seek out help when new symptoms arise — plus, their health professionals could consistently keep an eye on how things are going.
Personal health apps. Similarly to remote patient monitoring, older adults would be able to track their personal health progress to improve their wellness and fitness levels via telehealth apps and portals. In addition to monitoring their weight, activity, and nutrition, they could automate their medication, sleep schedule, and otherwise.
Challenges of telehealth technology
Though telehealth clearly has numerous advantages, it does have some drawbacks. Unfortunately, a digital divide still exists between generations, making the transition towards telehealth technology more of a challenge, especially for less tech-savvy older adults or those less comfortable or familiar with using technology in general.
Additionally, some seniors still prefer in-person visits, or they might have trouble or frustrations with certain technological logistics that may be tough to resolve on their own (such as issues with WiFi, volume, their camera, etc.). And, of course, telehealth is not a viable option for everything, especially appointments that require physical touch or examination.
What telehealth technology is currently available?
There are a growing number of telehealth providers with affordable services available now throughout the US, most of which cost about the same as a conventional appointment — and many now offer free options due to the current situation.
Some of the more well-known telehealth providers include options from Cigna, Teladoc Health, CareClix, and K Health — but the list goes on and on. For more ideas, check out CNBC's list of 9 telehealth services that are free due to COVID-19, or EveryDay Health's list of 10 telehealth options available throughout most of the US, at varying affordable price points.
The future of telehealth: There's no turning back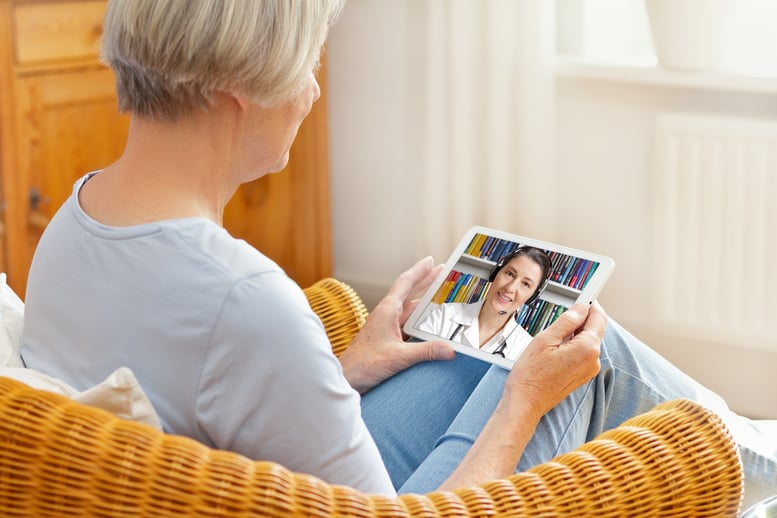 As it turns out, we don't always have to go to the doctor's office in person after all. With telehealth technology, we now have a number of tools at our fingertips that can streamline, expedite, and enhance many aspects of health care — especially for older adults and those with limited mobility — for years to come, making everyone's lives a whole lot easier.
Coronavirus will end eventually, and when it does, one of the positive outcomes we'll take with us will be realizing what we could have done all along — just imagine all the time and energy we could have saved by adopting telehealth years ago.
If we've learned anything from the current pandemic, it's that telehealth and telemedicine can and should be our new norm when it comes to health care.
As tough as things may seem right now, this too shall pass. We're resilient, and we will get through this — and we'll come out on the other side more united and innovative than ever, taking aspects from our new way of life with us. It's safe to say that telehealth and telemedicine have massive potential, and they certainly aren't going anywhere in the years ahead — not just for seniors, but for all of us.