How Technology Can Help Older Adults with Social Isolation
March 25, 2020 by Intuition Robotics Team
Right now is a difficult time for all of us. In an effort to help flatten the curve and slow the spread of COVID-19, most of us are practicing some degree of social distancing, isolating ourselves from those around us.
Though this is the right course of action to take given the current situation, it certainly feels as though our lives have dramatically changed overnight.
Consequently, many of us are going through a rollercoaster of emotions – from fear and confusion, to immense frustration, boredom, and loneliness – in reaction not only to the coronavirus itself, but to the disruption in our previous way of life.
Despite how bleak things may seem right now, one of the silver linings of this situation is that it sheds some light on the frustrations many aging adults have been faced with long before COVID-19 began to surface.
Social isolation, loneliness, boredom, and worries about health have been part of the repertoire of concerns that many seniors living at home have faced for quite some time, and we've now been exposed to a mere glimpse of what they've gone through for years.
According to AARP, the health effects of social isolation among older adults can be especially detrimental, and can ultimately lead to depression, cognitive decline, increased blood pressure, and even early death.
And while social distancing is tough for everyone, turning to technology in these trying times can certainly make things a whole lot easier.
We now see first-hand just how advantageous technology can be when stuck at home – and how beneficial it could have been this whole time for older adults grappling with social isolation as they age in place.
That said, while the ability to text, make video calls, listen to podcasts or order food online may feel like second nature for many of us, a digital divide still exists between generations, and older adults – the group most vulnerable during this time – still have a harder time understanding and utilizing technology.
It's time for that to change. The sooner older adults start to adopt and embrace the power of technology throughout their daily routines, the sooner they'll be able to reap the substantial benefits that it can provide in terms of health, convenience and peace of mind.
Let's explore some of the numerous ways in which technology can bolster older adults coping with social isolation – throughout this period of social distancing and going forward, long after it ends – to remain as healthy, connected, and thriving as possible.
Staying social and connected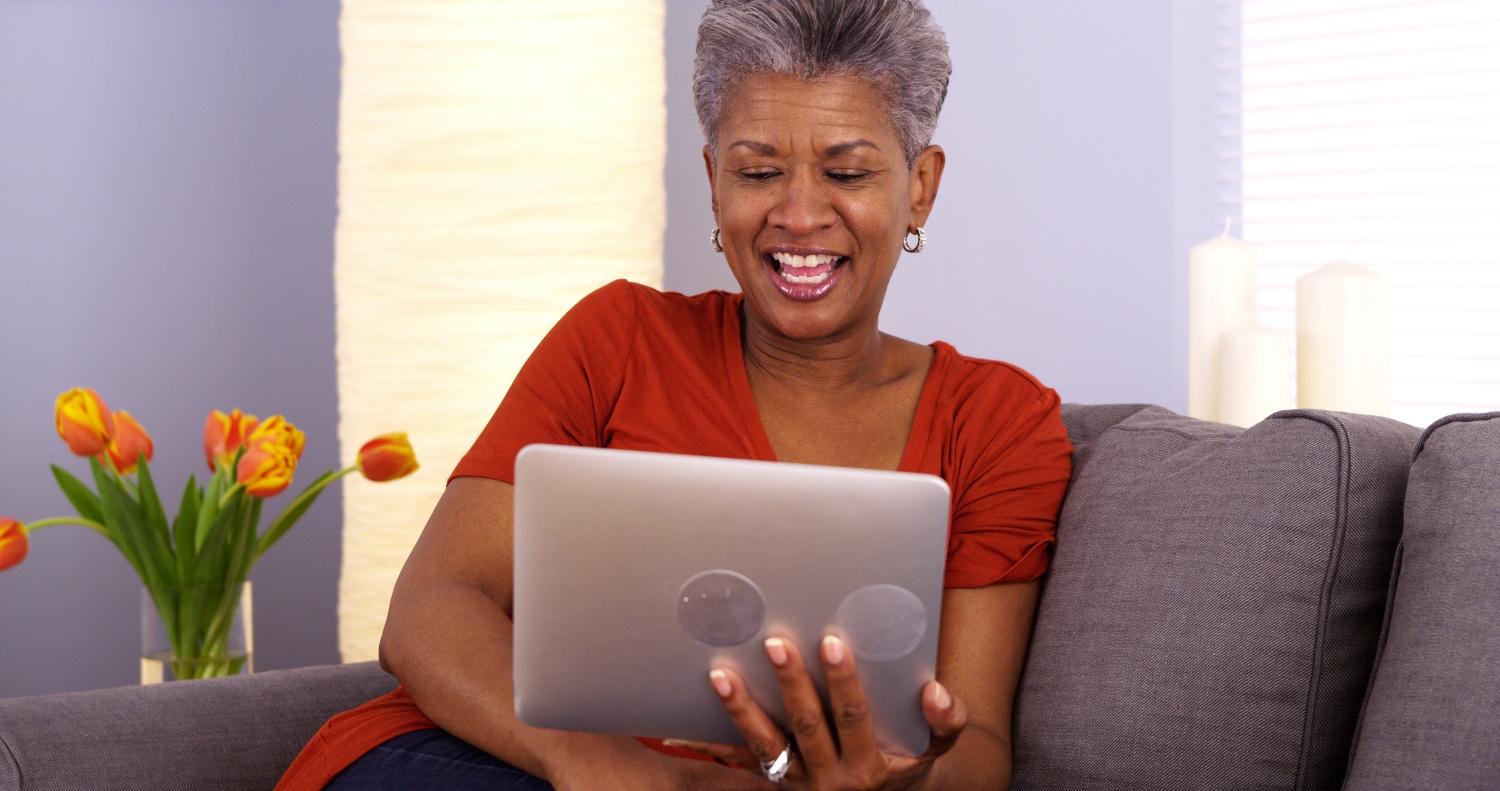 Whether it's to help alleviate loneliness or for loved ones to simply check in and make sure they're doing okay, keeping in touch is always important for older adults – and even more so during times of distress.
Fortunately, technology provides a variety of free, easy-to-use tools to keep us close when we're not physically together – some of the most advantageous include the following.
Video. In addition to conventional phone calls, when socializing in-person isn't an option, video calls are the next best thing. Video makes it feel like our loved ones are right there in the room alongside us, and there's something much more personal and meaningful about seeing their faces. It's also a way to see their environment and facial expressions, to help detect if there's something wrong. Platforms like Google Hangouts, Skype, Zoom, and FaceTime are all free, user-friendly, and can simultaneously connect large groups of people at once, so they're perfect for every type and size of family.
Messaging. We now have the ability at our fingertips to instantly check in, share photos, voice notes, updates, helpful links, and everything in between through messenger apps. Aside from conventional SMS exchanges, platforms like WhatsApp, iMessage, and Facebook Messenger are other useful options older adults can utilize to stay connected on a regular basis – and nearly all of them provide video chat options as well.
Voice assistants. Being at home alone all day, every day can quickly become lonesome, so it's nice to have something to talk to around the house. Though animals can provide a nice sense of companionship, for those unable to take care of a pet, voice assistants are somewhat of an alternative. Though the devices themselves aren't free, voice-enabled Amazon Echo, Google Home, and Facebook Portal devices provide something to fill the void and converse with when their loved ones aren't around – plus hands-free video calls and endless entertainment – so an empty house feels a little less lonely.
Staying healthy and active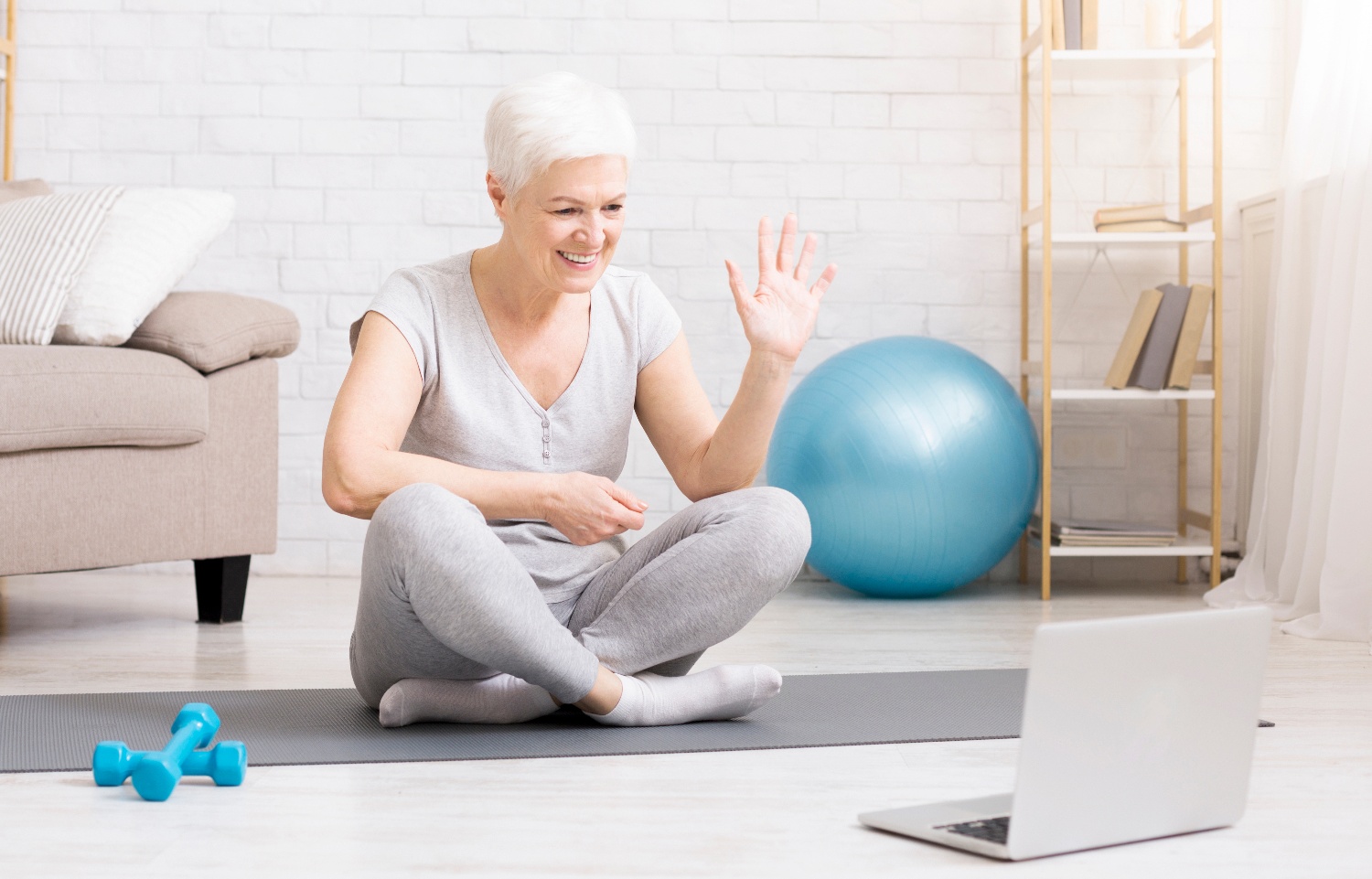 While we adjust to the massive shock of social distancing, millions of older adults have been faced with similar circumstances for quite awhile. In 2019, about one third of all older adults in the US lived alone.
As previously noted, social isolation and loneliness can have detrimental impacts on seniors' mental and physical health. To combat this, older adults can turn to technology to remain active, healthy, and thriving at home.
Health reminders. We all forget things – and in times like these, it's especially vital to abide by the changing health protocols. This is where setting health routine reminders can be immensely valuable. Through calendar alerts or apps with push notifications, they can set up periodic reminders for virtually everything, from drinking water, to taking medicine, washing hands, keeping an eye on their temperature, getting up and moving, or checking in with their doctor or loved ones.
Wellness. From breathing exercises to meditation, mindfulness is a fantastic way to stay relaxed and grounded, especially during stressful periods. There's tons of wellness apps and websites that offer free trials or subscriptions, such as Headspace and Calm, that older adults can easily operate. They offer a variety of guided and non-guided meditation sessions and breathing activities, as well as inspiration, music, stories, gentle stretches, and relaxing sounds for sleep.
Physical activity. One of the most challenging aspects of social distancing that many older adults in social isolation have struggled with for years is finding ways to exercise at home. Exercising can obviously help improve physical health and prolong a host of physical issues, plus the subsequent endorphins can lift our spirits, which we could all use right now. Fortunately, there are plenty of adaptable online workouts available, designed specifically for seniors, via YouTube (the National Institute on Aging has some great senior-friendly workout videos), apps for yoga and Tai Chi, and virtual classes – all adjustable for each individual's unique capabilities.
Telehealth. The current situation highlights just how urgently we need a system in place for older adults to speak to their doctors without setting foot in their offices, let alone a hospital. At the moment, doctors are so overwhelmed with an influx of patients that they're urging everyone to participate exclusively in virtual appointments via video platforms, rather than in-person – even via platforms that aren't necessarily HIPAA compliant. Telemedicine not only protects older adults from the risk of infection, it also allows for more comprehensive symptom detection, monitoring, and a convenient way to communicate with doctors more frequently. Throughout the current pandemic and going forward, it's clear that telehealth availability will only continue to expand, and it's an option that older adults could – and should – have been utilizing all this time.
Food delivery. Let's not forget the importance of access to healthy, nutritious food. In the current situation, going out to shop for groceries can be risky. Though some grocery stores have designated special shopping hours for seniors, the safest bet is always to stay home. They can order groceries online via Amazon, Instacart, Peapod or via their local supermarket, all without ever setting foot outside. And if they're not big on cooking, they can always order food from local restaurants online via services like GrubHub, Postmates, UberEats, and DoorDash.
Fighting off boredom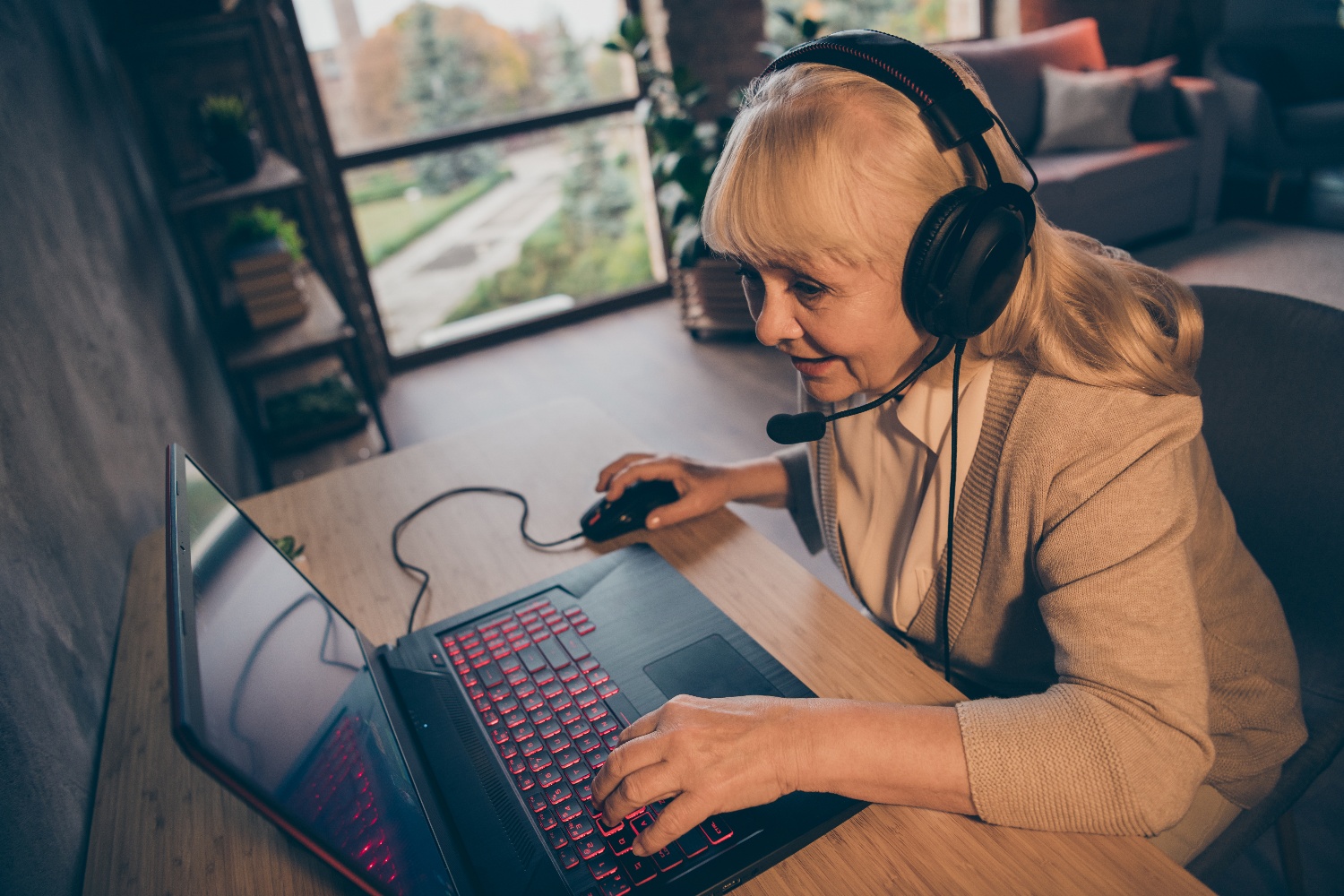 Being cooped up in the house all day might be fun for a little while, but eventually it can get pretty boring and repetitive. Furthermore, in times like these, we could all use something positive to focus our attention on that can lighten the mood, keep our spirits up, and distract us from negative thought patterns.
Thankfully, technology provides ample entertainment options to keep boredom at bay and maximize time spent at home.
Music and video. Sure, it might not be the most productive, but binge-watching movies and shows is a great way to pass the time. Aside from traditional cable, socially isolated older adults can easily access unlimited on-demand video content via Netflix, Hulu, Prime Video and more. They can also stream their favorite music for free, all day long, through Spotify, Pandora, YouTube, and otherwise.
Learning. Instead of merely watching TV or movies all day, having extra free time at home is an ideal time to stimulate the mind and learn something new. They can discover and listen to thousands of TED Talks and podcasts, and many local libraries offer free access to online ebooks and audiobooks through apps like Libby. They can even take on a new language for free with Duolingo, or challenge themselves with free trials of online courses via Udemy or FutureLearn – or earn a few bucks by teaching a skill online to their younger counterparts.
Games. Though there's plenty of mindless games out there, ideally older adults should engage in more cognitively stimulating games that require a bit more thought and effort. Nowadays, every game and puzzle we can imagine has an app or online version – from Words with Friends and trivia, to online card games like bridge, Mahjong, poker, and more – the online options are truly limitless, and by inviting friends and family to join them, they have another means to virtually socialize together.
In times of isolation, let's turn to technology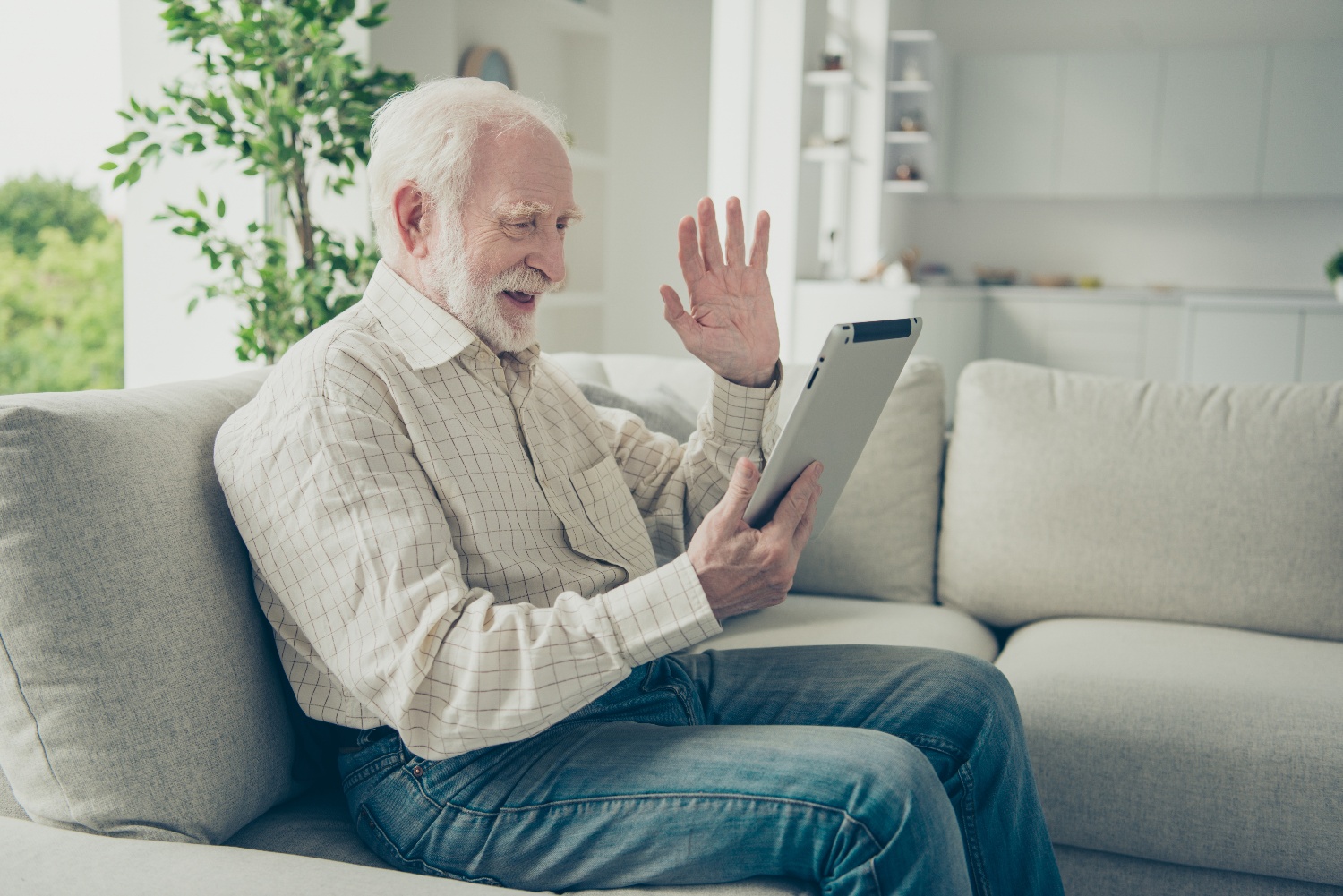 As we've come to realize now more than ever, technology is an extremely powerful tool. For those of us that know how to use it effectively, it provides us with the ability to turn a dire, difficult situation, like the COVID-19 outbreak, into a much more pleasant, productive and enjoyable experience.
So as social distancing forces us to completely transform our former way of life, we're subsequently starting to gain some insight on the social isolation that many older adults living alone have been facing for years.
In many ways, this situation is a serious wakeup call. It's a time to reflect, to appreciate, to innovate, to help each other out, and to remember what – and who – really matters most in life.
Right now, we should not only be exploring ways in which technology can help improve our new circumstances at scale – it's also our responsibility to teach the less tech-savvy older adults in our lives how they can do the same.
Don't be shy – check in on your aging loved ones, find out their needs, what they're struggling with, and give them some ideas and suggestions on how they can best utilize the technology they already have at home. What may seem a bit awkward or embarrassing in the short-term will be well worth it in the long-term.
While we don't know exactly when the coronavirus and this period of social distancing will end, it will end eventually, and when it does, we'll come out stronger and more unified than ever.
Though it's tough to look at the bright side, this is an opportunity for us to realize what we could have been doing all along – in this case, turning to technology to help enhance the lives of socially isolated seniors.
What we can take away from all of this going forward is that the more we can continue to help older adults in adopting and welcoming new technology, the more lives we can ultimately improve – and the more our vision for a new era of happier, healthier aging becomes closer to reality.