Living Away from Family: How to Keep Connected
December 15, 2019 by Intuition Robotics Team
We live in a digital world, and in many ways, we're more connected than ever. We now rely on technology to automate, enhance and simplify nearly every aspect of our lives - from our smart devices at home to the ones in our pockets.
And though it feels as if we're constantly in touch with each other virtually, physically speaking, that's not always the case.
Whether it's for a job or academic opportunity, to seek out better or cheaper housing, a closer commute, family dynamic changes, or something else entirely, millions of families now live cities, states, and even oceans away from their loved ones.
While it's becoming highly feasible to live hours of travel away, breaking down those distance barriers can be tough, specifically for older adults with children and grandchildren at a distance.
Though today's technological advances make keeping connected with loved ones easier than ever, there's still no 'one size fits all' solution, and there's plenty of confusion when it comes to staying in touch - from selecting the ideal mode of contact to integrating more frequent communication into our routines.
In this post, we'll explore technology's integral role in mediating communication in our vital relationships, and how it can be used for the better to diminish physical barriers to keep us connected with our loved ones when it matters most.
Technology: Paving the way towards better communication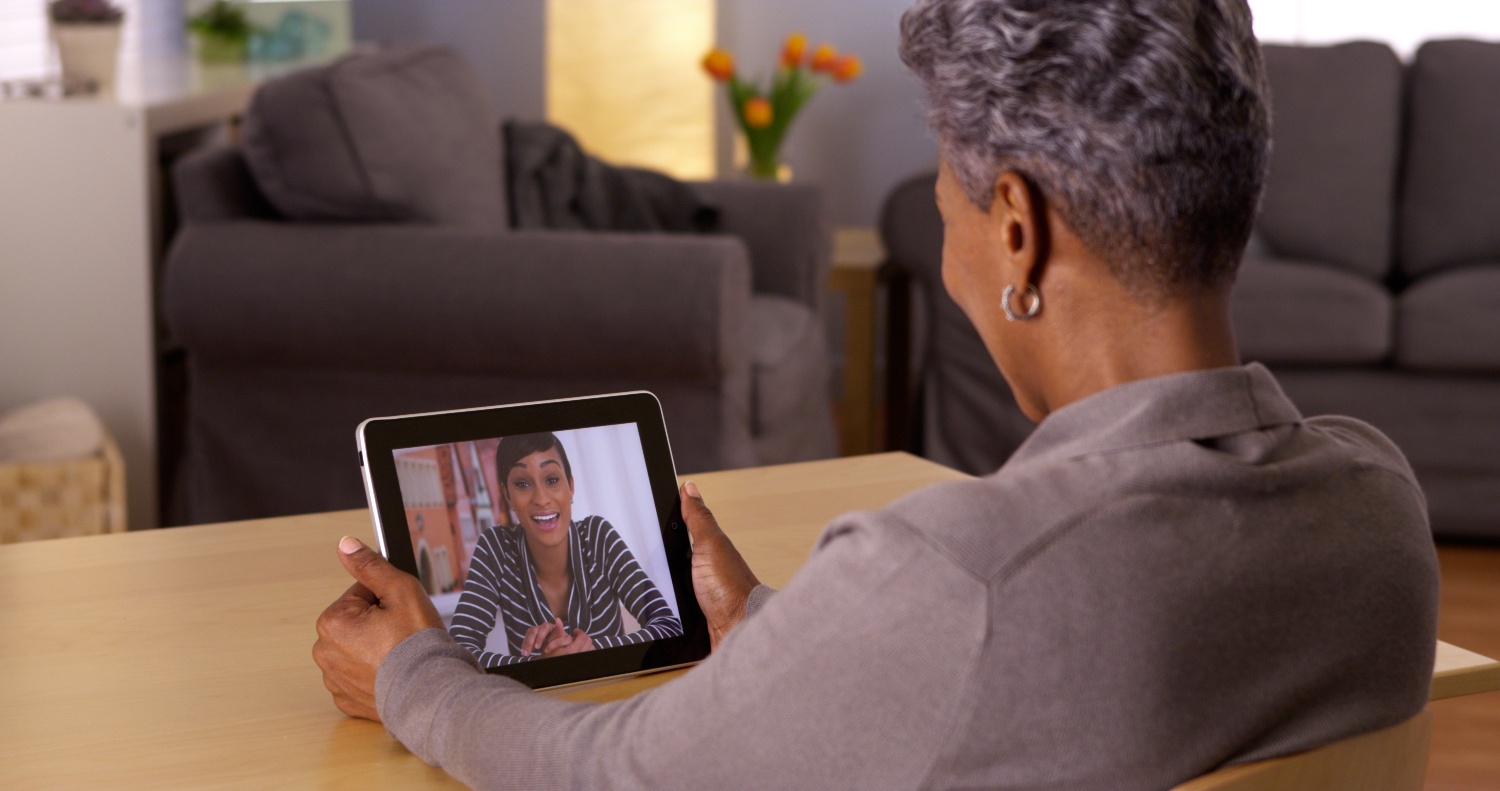 Communication and transportation weren't always so convenient. In prior generations, people didn't typically venture far from the neighborhoods they originally grew up in, and it was pretty unheard of to live several hours away, let alone an ocean.
Despite the fact that in 2015, the median distance Americans lived from their parents was around 18 miles, about 20% still lived more than a couple of hours' drive from their parents - and 18 miles certainly isn't comparable to living down the street.
Traveling today has become increasingly comfortable, available, and affordable. Commuting several hours to work via train or car has become somewhat of a norm, and domestic and overseas flights are now highly accessible - cheaper, and more prevalent than ever - making it easy to hop on a quick flight home for vacations, special occasions or emergencies.
The way in which we communicate has also been radically transformed, even in the last 10 years alone. We've quickly transitioned away from sending snail mail and calling via landline, payphone, or bulky cell phones, just to keep each other sporadically updated and informed.
Now, all it takes it the touch of a button - and we can communicate with the whole world, all via one tiny device.
Because we've become so mobile and digitally connected, it makes sense why people feel more comfortable spanning across larger physical distances. Though of course nothing beats face-to-face interaction, technology has vastly enhanced the way in which we communicate in a number of ways.
And while you might not expect older adults to frequently use technology, the reality is quite the contrary. A 2018 AARP study found that 62% of midlife and older adults used their phones daily to text, 57% used them daily to talk, 36% used them daily for social media - and these numbers are expected to continue to grow in the future.
Crafting your communication strategy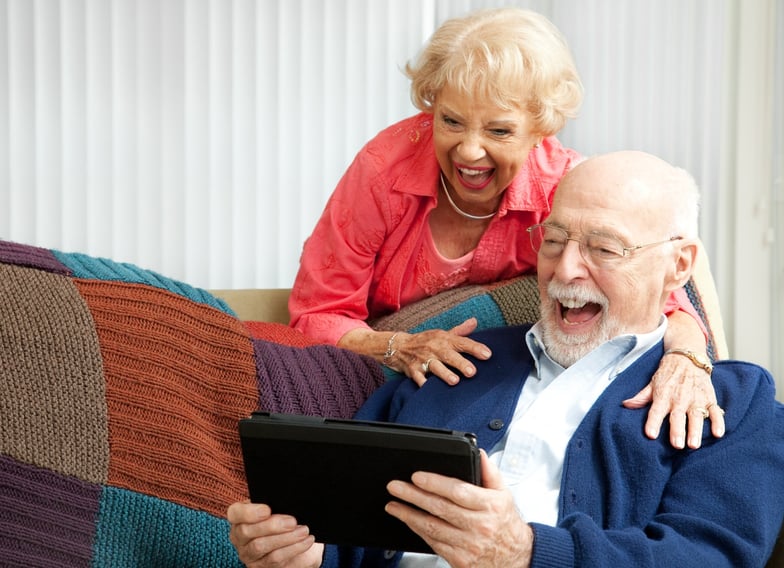 Though technology clearly makes staying in touch more quick and effortless, a substantial digital divide still exists between generations. Some older adults unfortunately tend to have a harder time adopting new technology due to factors like cost and lack of exposure.
Furthermore, finding the optimal form and frequency of communication for each individual takes some concerted thought and effort. While there's no perfect solution, the following ideas should be helpful in getting you and your loved ones started - they're all easily accessible, user-friendly, and free of charge.
Video chat. When face-to-face communication isn't an option, video chat is the next best thing. There's something special about seeing loved ones' faces, and putting a face to their voice feels much more personal. Platforms like FaceTime, Skype, and Google Hangouts are all free, easy to operate, and a terrific way to connect - especially for those with loved ones overseas. Voice calls and FaceTime or WhatsApp audio are nice alternatives when video isn't an option.
Set a call routine. Planning ahead is always a great idea. By having a designated time each day, week, or month that works for everyone's schedule, you'll be able to fully discuss everything going on in each other's lives more intimately. For example, dedicate every Sunday afternoon or evening to a lengthy chat with your mom - this way, you'll ensure that you communicate frequently and effectively. Add it to the calendar, and eventually it'll become second nature.
Social media. Though it can feel a bit less personal than standard calls or video chats, social media is a wonderful means of connecting with a large-scale audience, especially with those you wouldn't necessarily see in person. From reuniting with old classmates to even finding new friends in the area, it's another fantastic, instant way to contact a large group of people. Use it to share pictures, videos, and other media, bond over shared interests, and everything in between.
Email. Think of emailing friends and acquaintances like you're virtual pen pals. It's a useful tool to periodically check in with those you rarely see in person, but still want to stay in touch with over time. Without social media's character and file size limitations, email offers more freedom to write out lengthier messages, so sharing sentiments, life updates, and reminiscing about special memories is straightforward and worthwhile.
Messaging apps. Checking in with loved ones is a cinch with apps like iMessage, WhatsApp, Viber, and Facebook Messenger - the list goes on and on. Share videos, voice notes, images, stickers, GIFs, videos, and much more, all for free, even internationally. Plus, there's no pressure to be available at a certain time, and you can respond when it's most convenient, so keeping in touch with contacts across various time zones is effortless.
Keeping older adults connected like never before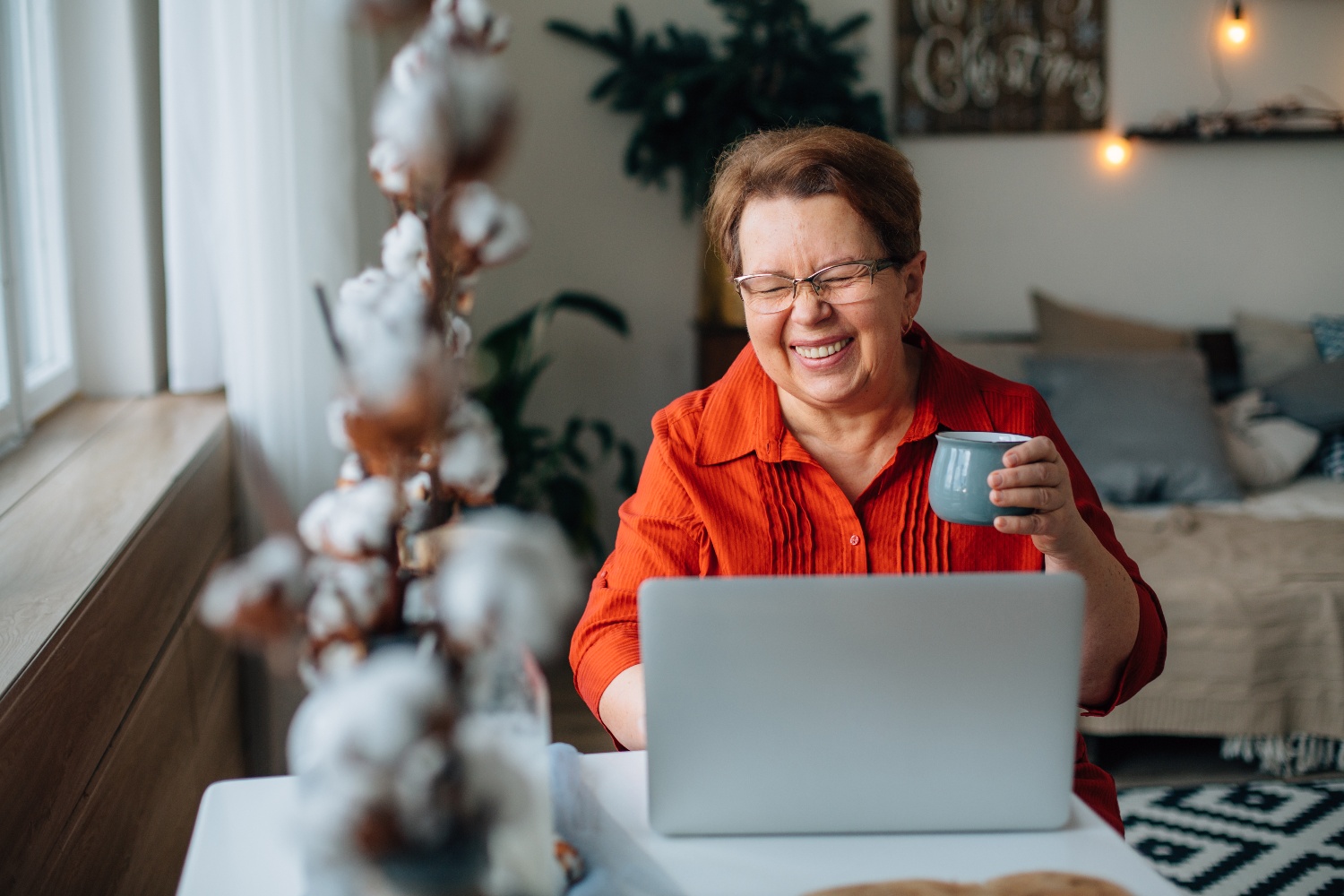 We designed ElliQ specifically with older older adults in mind, to help bridge the digital divide, and keep them connected, engaged, and independent.
From sharing photos, stickers, and voice notes, to video chats and calendar reminders about when to contact friends and family, ElliQ makes staying close and connected with those that matter most throughout those special moments in life an absolute breeze.
All that said, residing far from loved ones can of course be difficult at any age, and it certainly has its fair share of challenges. Nobody should feel lonely or disconnected from their important relationships, especially older adults living on their own.
Fortunately, with today's technological advances readily available at our fingertips, staying close and connected has become more feasible, convenient and realistic than ever. As more and more seniors embrace technology to stay in touch, their new and existing relationships will become stronger than ever - no matter where their loved ones reside - in the years to come.