Though Covid-19 was the initial catalyst of virtual care's rapid, widespread adoption, it's been needed since long before the pandemic — especially when it comes to caring for older adult patients. Now that we've come to embrace more virtual care solutions, it's safe to say that they're definitely here to stay.
Virtual care offers a number of benefits to both older adult patients, primary care providers, and the entire healthcare ecosystem. It's much more convenient and cost-effective than standard care, and in times like these, it's a much safer approach.
Yet despite the massive rise in virtual health adoption we've witnessed as a result of the pandemic, for now, not everyone is fully on board with these tools. While senior patients potentially stand to gain the most from virtual care solutions, adoption and usage among older adults tends to be much lower compared to their younger counterparts.
Going forward, this needs to change. Since virtual care will remain a vital component of our healthcare system, older adults must be fully-versed in how to utilize these solutions — and primary care providers must do their part to help ensure that more patients are comfortable with operating virtual care solutions.
In this post, we'll explain why many seniors have had a tougher time adopting virtual care thus far, how PCPs can attempt to change the current paradigm, and some virtual care best practices to help you optimally serve and support your older adult patients.
What is virtual care?
Virtual care can be defined as any form of remote interaction between healthcare providers and their patients. It includes virtual visits via telehealth, as well as patient-provider communication via phone call, SMS, email, and otherwise.
Why do older adults often have a harder time adopting virtual care solutions?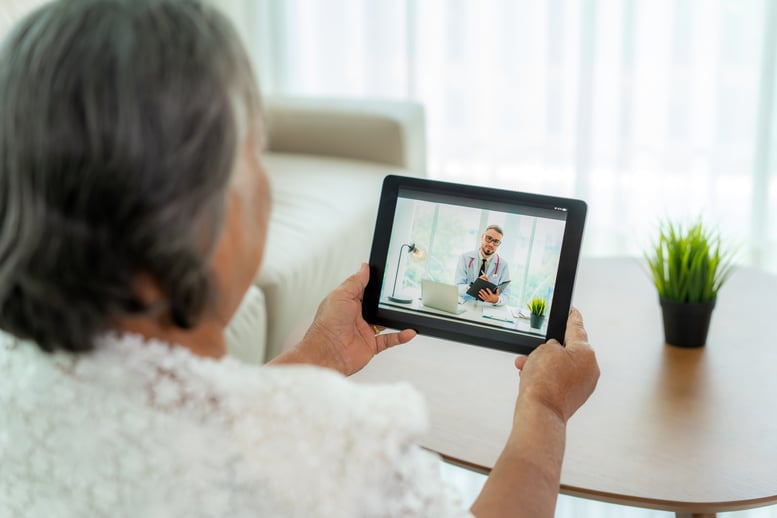 It should come as no surprise that due to the pandemic, telehealth adoption among older adults today is at an all-time high. One survey found that due to Covid-19, telemedicine use among seniors increased by 300%.
Virtual care offers a variety of advantages to both patients and providers, including lower costs, increased convenience, and added safety — even more so amid this pandemic, with heightened concerns around coming in contact with the virus.
Though telehealth is only one component of virtual health, it has quickly become the most sought-after aspect — mainly because as an alternative to in-person visits, video visits are the next best thing. That said, there are many seniors that have yet to embrace these technologies, due to a variety of aspects.
Research conducted by the University of Michigan found that 26% of surveyed older adults (ages 50-80) had experienced a telehealth visit between March and June 2020 — up from just 4% in their May 2019 research. While that's a massive increase, it means that 74% of those surveyed did not use telemedicine.
They found that some of the most common concerns among older adult patients surrounding telehealth usage included: difficulty seeing or hearing providers, fears around privacy and/or safety, and sentiments that the quality of care or overall connection to their providers was subpar compared to in-person visits.
What's more, over half of those surveyed indicated that in-person office visits were better than telehealth visits with regard to feeling cared for (56%), communicating with their healthcare professional (55%), and the amount of time spent with their healthcare professional (53%). Additionally, 58% viewed in-person office visits as better than telehealth visits in terms of overall quality of care.
Another factor that can influence seniors' ability to adopt virtual care is their overall level of comfort and familiarity with using technology in general. Of course, not all older adults are alike in this regard. Tech savviness and aptitude will vary tremendously depending on a patient's age, prior experiences with technology, and openness to learning new forms of technology.
For example, a 65-year-old patient and a 95-year-old patient will likely have a very different set of needs and abilities when it comes to using technology. Nevertheless, regardless of age, while some older adults may lack awareness and understanding as to how to use these tools, others will be able to utilize them with ease.
Finally, availability of resources (or lack thereof) can impact older adults' ability to operate virtual care solutions. Whether it's a lack of broadband (due to the cost or their location) or simply not owning the devices needed to connect (i.e. a laptop or smartphone), without the right components at hand, they'll be unable to successfully utilize virtual care solutions.
Virtual care for seniors: Best practices
Despite the above challenges in getting more older adults to adopt virtual care technology, the benefits that these solutions can provide — on all ends of the equation — far outweigh the initial challenge of adoption.
Though changing the current standard may be tough, it's certainly possible, so long as you're able to incorporate the right strategy, approach, and diligence with your senior patients. So, how can you increase virtual care adoption among your older adult patients — while ensuring that an optimal virtual care experience?
Though there's no perfect answer, the following tips and best practices are a great place to start.
Assessment and education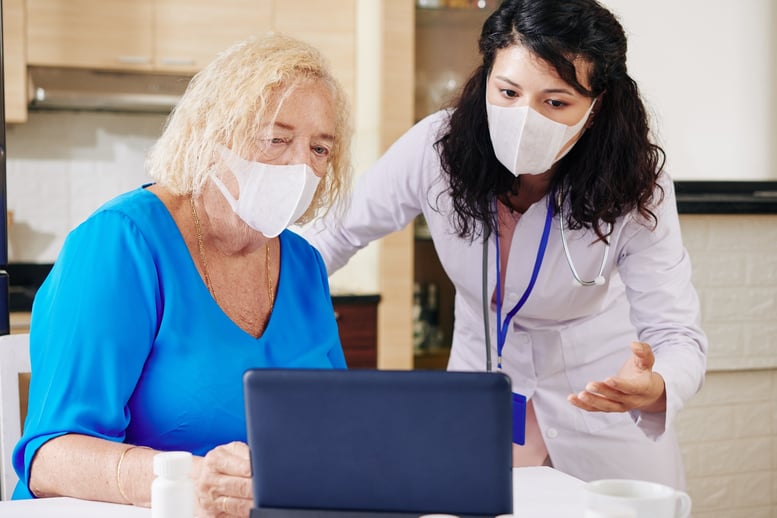 In order to ensure an effective virtual care experience for your older adult patients, it's important to first find out each patient's overall level of comfort and aptitude for using these tools. Ideally, this should be done long before the appointment is set to take place — even a few weeks or months out.
You should find out which forms of virtual care they're capable of using with ease, and which ones they need assistance with. Typically, at the very least, most patients will know how to operate their land line — but if they're not familiar with other modalities of communication (like SMS, email, and video), you should instruct them on how to do so.
Provide these patients with step-by-step usage guides, checklists, video tutorials, or other resources, as well as one-on-one lessons when possible. Lessons can be done either in-person or via telephone, and healthcare staff (or senior living staff) can be a great educational resource for this as well.
It can also be helpful to provide patients with a support hotline — a number they can quickly call when they're having technical difficulties, to get the assistance that they need via phone, a modality that they're more comfortable with.
Tools and software
Another important factor in ensuring effective virtual care? Choosing the right tools and software. The solutions you select should have a simple, senior-friendly design — ideally, one that's easy for even the least tech-savvy older adults to understand and operate.
As mentioned above, it's also important to have a multifaceted approach, with alternate communication options — such as phone, SMS, and email. This way, if a patient is less comfortable partaking in video visits, you'll have an option for check-ins via phone. If they don't answer their email, you'll be able to send them information via SMS — and so on.
You should also consider leveraging the right tools and 3rd party app integrations, such as blood pressure and heart rate monitors, glucose meters, and wearable devices to track their sleep, activity, and otherwise. This will allow you to obtain and monitor your patients' vital signs before your appointments together take place — so you can give a more accurate diagnosis.
Of course, you'll need to properly educate them on how to use any new solutions (as needed).
Clear, effective communication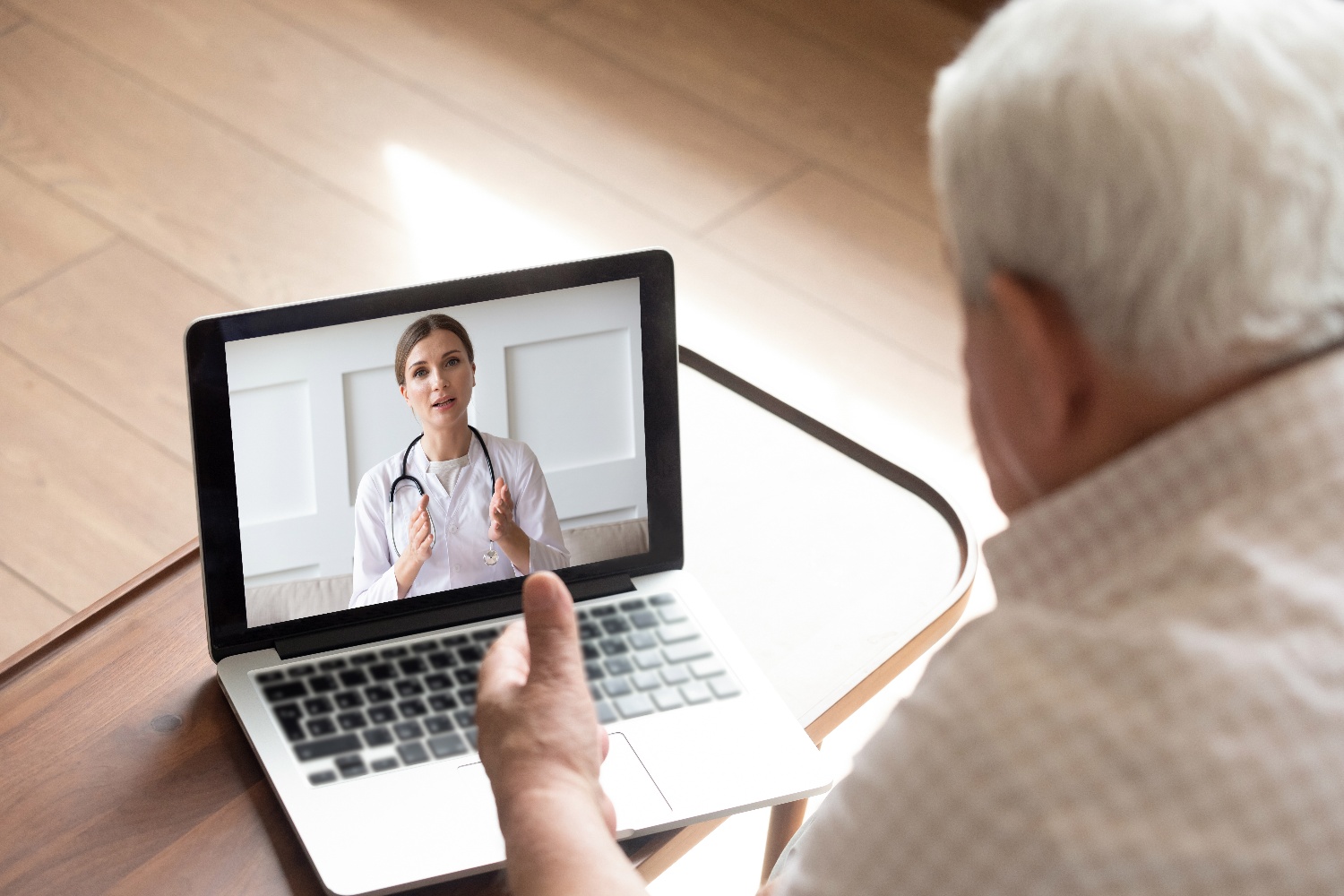 Communicating clearly with patients will ultimately help you gain their trust and foster a flourishing patient-provider relationship. But since communicating via virtual care isn't always quite as clear and effective as in-person care, it's especially important that you implement the right communication techniques.
A major concern for those that are new or less familiar with virtual care technology is security. Many older adult patients fear that their data is being compromised, or that virtual care platforms are flat-out unsafe. As such, it's imperative that you ensure to them that these platforms are in fact safe and secure, fully addressing any of their concerns as they arise.
Reminders are another important aspect of communication, especially for patients that are newer to these modalities. Be sure to call, text, and/or email them several times prior to their upcoming appointments, at various intervals.
For example, you can reach out to them via phone one week before, then call and text them a day before, and send them one final reminder an hour before. This can also be a great way to check in and make sure that the patient is fully aware and capable of operating the technology that's required before their upcoming appointment takes place.
Video presence and etiquette
Last but not least, when it comes to telehealth and video visits with patients, you should aim to uphold basic video presence and etiquette best practices.
Your goal should be to transcend as much of the in-person experience as you possibly can into these video visits — so it's a close replica of the experience that they're used to having.
General best practices for video visits include:
Video settings — To ensure that there are minimal distractions for your patients, ensure that you're in a quiet setting (with no background noise), that you have optimal lighting and visuals, and that you have neutral, professional background behind you.
Professional attire — To help the patient feel that the video appointment is just as standard and legitimate as an in-person one, you should always wear your traditional attire to the appointment (preferably, your white coat and name badge).
Communication — Because you're attempting to transcend the exchange of an in-person visit via video, be sure to maintain proper eye contact, actively listen, focus on the patient (rather than looking at yourself), and nod when appropriate.
Finally, be sure to allow a few minutes between each appointment. This way, you'll have enough time to test out your microphone and settings by the time the next appointment begins, and you won't leave any patients hanging on the other end.
Let's empower more senior patients to embrace virtual care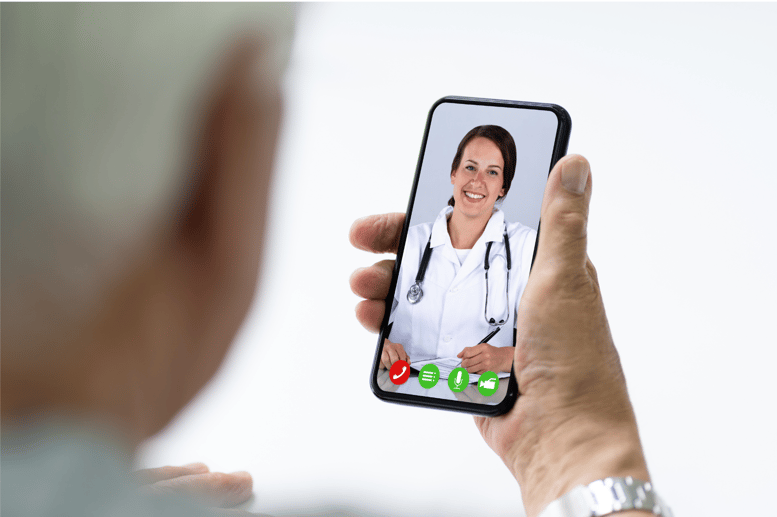 Covid-19 has shown us just how beneficial virtual care can be for PCPs, health systems, and patients alike — even more so for high-risk senior patients. In a post-pandemic world, we'll undoubtedly bring virtual care with us.
Obviously virtual care and telehealth will never replace in-person visits entirely, and many older adults have yet to fully adopt these solutions at scale. That said, with the right strategy in place, in due time, we can change the current standard, to help them feel more comfortable utilizing new forms of care technology with relative ease.
With more older adult patients embracing these solutions, virtual care will help augment and enhance healthcare providers' abilities and support, connect, and communicate with them like never before. Hopefully soon, with increased awareness and efforts, the virtual care experience will become much more feasible, effective, and enjoyable for all.