Among so many other significant changes, this pandemic has quickly forced our entire world to adopt drastically different habits and behaviors. We now rely more heavily than ever on technology to facilitate virtually every aspect of our lives – from the way we work, learn, shop, and socialize, to our health care. In a way, COVID-19 has merely sped up some of the inevitable tech-related transitions that we were bound to face eventually.
If this pandemic has taught us anything, it's that there are so many things we could have been doing all along, especially when it comes to our health. Digital health solutions became widely popular, and in a post-pandemic world, they'll continue to flourish. Nevertheless, while some of us were quick to embrace these new health-tech solutions, for many older adults – those most vulnerable and at-risk during the pandemic – adjusting to this "new norm" wasn't quite so easy.
Surely this comes as no surprise – but why exactly is it so difficult for older adults to embrace digital health solutions? Is it simply a lack of exposure or affinity to technology, or is it something else entirely? In this post, we'll take a closer look at digital health – what it is, the substantial benefits it can provide for older adults, why adopting this technology is so tough for them, and some potential solutions to help change the paradigm going forward.
What is digital health?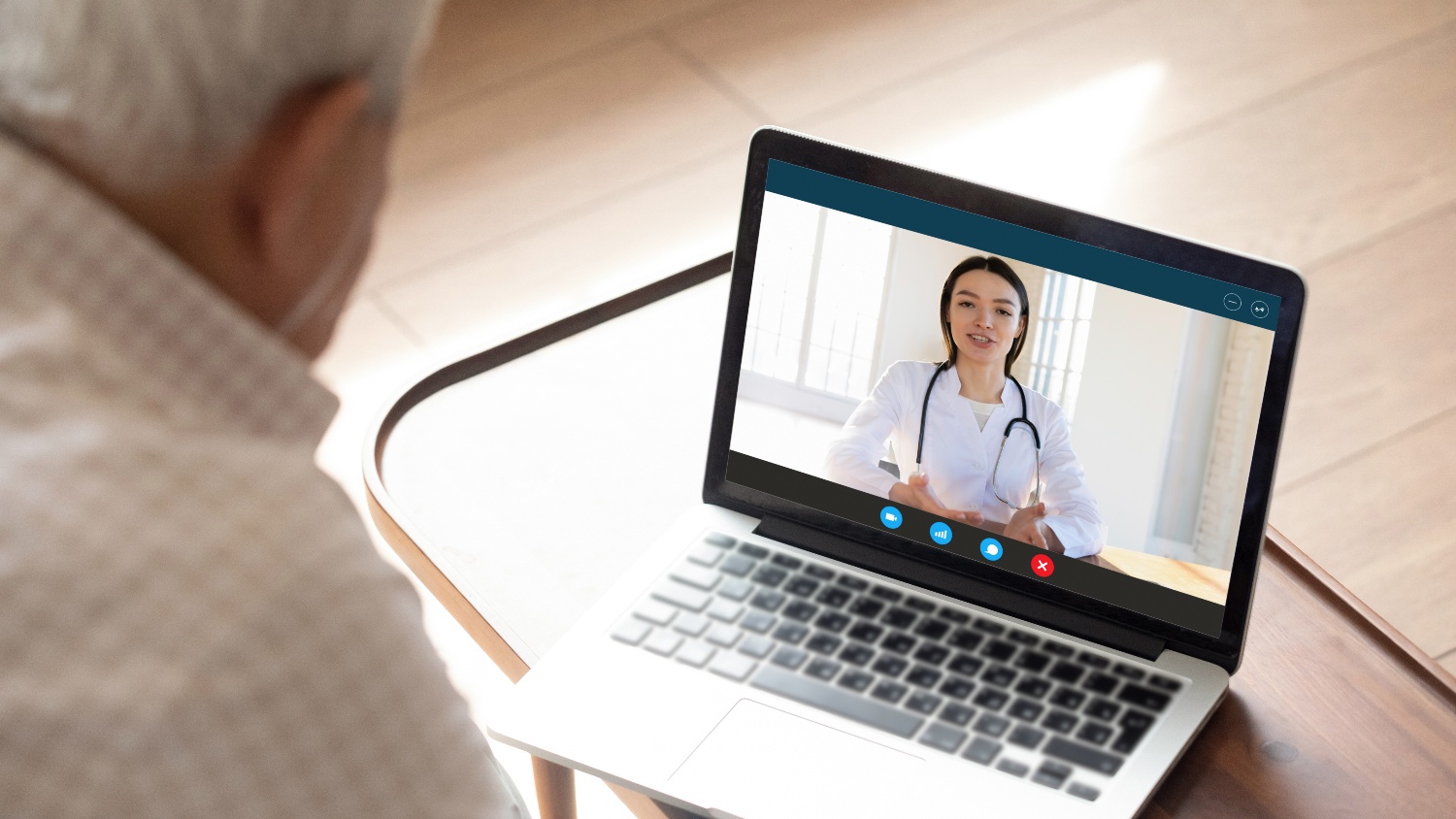 To put it simply, digital health is any means of using technology (apps, gadgets, and interfaces) to continuously monitor and improve individuals' health and wellness. This can be in terms of tracking, managing, and/or preventing chronic diseases and symptoms, as well as other health and wellness-related factors – from patients' weight, exercise, and nutrition; to their stress levels, heart rates, and blood pressure.
Examples of digital health solutions include, but aren't limited to:
mHealth. Mobile or tablet apps that actively monitor and track various components of patients' health and wellness.

Telehealth

. Platforms that enable virtual appointments between patients and their health care providers.
Remote Patient Monitoring (RPM). Tools that monitor and measure patients' health data and behavior. This gives providers the ability to continuously track patients' vital signs, and gain a more complete, accurate picture of their health.
Wearables. Devices placed directly on the body that actively track users' sleep, activity, heart rate, and otherwise.
Emergency planning and prevention. Solutions that can detect and prevent emergency situations (such as falls, strokes, heart attacks, injury, etc.).
Digital health offers some substantial benefits
When you think about it, so many of today's diseases and chronic health conditions (i.e. type II diabetes, hypertension, etc.) can be fairly easily controlled – and even prevented or eliminated – with the right health measures and lifestyle changes in place. What's so revolutionary about digital health solutions is that they empower patients to take their health outcomes into their own hands, helping them develop and adhere to healthy, sustainable routines and lifestyles, all on their own.
With an active, hands-on approach to health care, digital health provides a wide array of benefits for the entire health care ecosystem, from patients and providers, to insurance and pharmaceutical companies.
Some of the most significant benefits of digital health solutions include:
Chronic disease and symptom monitoring, management, and prevention
Saving significant time, costs, and hassle for both patients and providers
Better adherence to healthy habits and routines (diet, exercise, medicine, sleep)
Reducing the number of necessary hospital admissions and readmissions
Though there aren't many long-term studies on the outcomes of digital health (since it's relatively new technology), various clinical trials over the last few years have seen incredible results. Several mHealth research studies found significant improvements in: diet monitoring, adherence to a healthy lifestyle, social functioning (for those with mental health conditions), perioperative care compliance, and patient satisfaction. Additional research is constantly being conducted, and hopefully in the next few years, we'll see even more reassuring results.
Why is it so difficult for seniors to adopt digital health?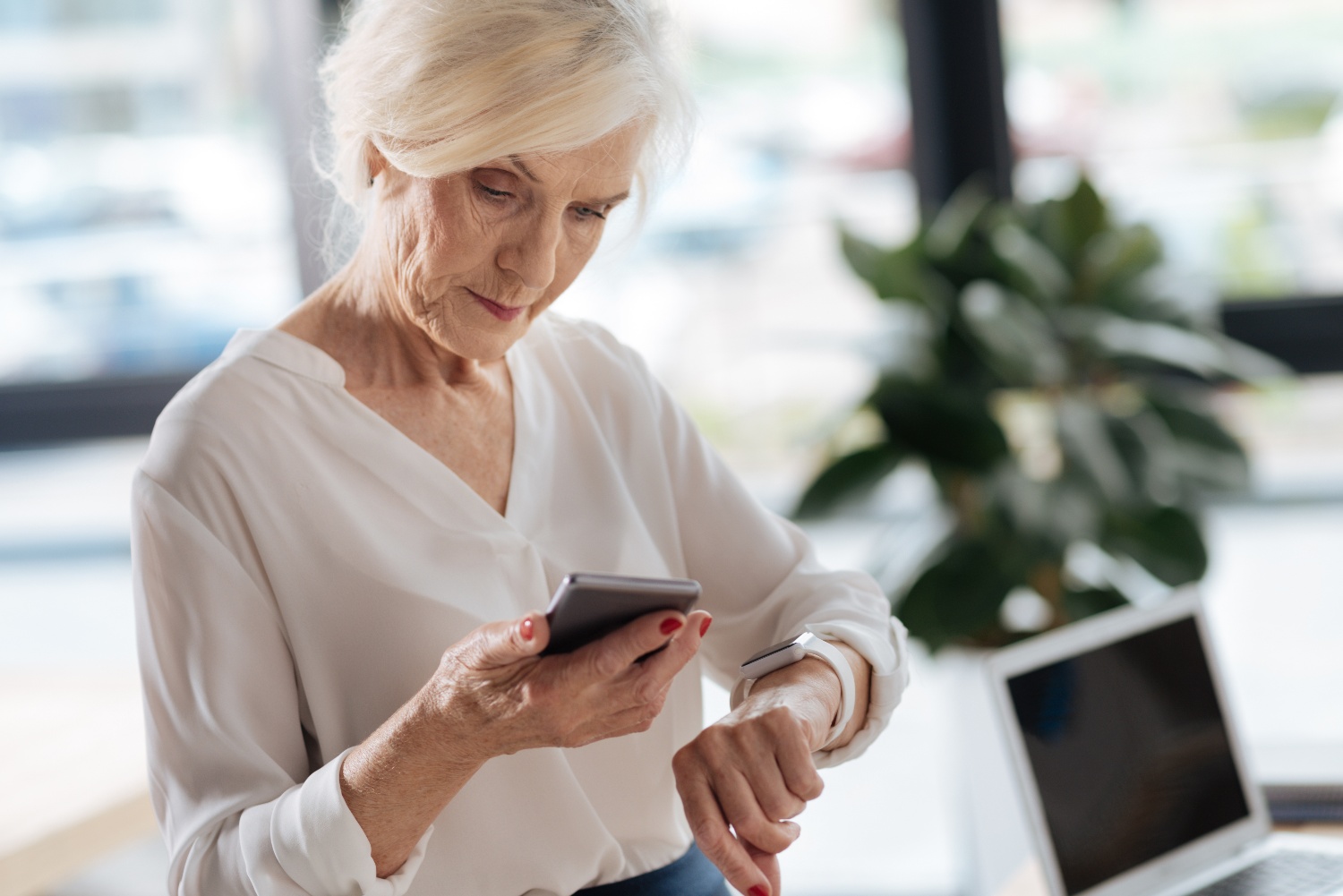 Approximately 80% of older adults in the U.S. are living with at least one chronic disease, and about 77% have at least two – many of which are relatively preventable or manageable. Furthermore, about 75% of all American health care costs are spent on seniors, and many live at home independently, thus making them the ideal candidates for digital health solutions.
But it should come as no surprise that thus far, unfortunately, older adults still tend to have a more difficult time adopting and utilizing digital health platforms. Why is that? While there's no one-size-fits-all answer, this topic is currently being heavily researched, especially since seniors stand to gain so much from digital health.
For now, some know factors hindering digital health adoption include:
Frustration. A

2019 study conducted by UCSD

found that many seniors simply get frustrated using new technology, making them less inclined to use it. They often need assistance, like training materials or someone to help them learn, which most products today don't come with. Additionally, most digital health platforms (apps, phones, etc.) weren't

designed with seniors in mind

, with indecipherable text, visuals, buttons, or sound.
Lack of access or exposure. Some older adults lack access to technology due to financial constraints. They can't afford the expensive devices needed to access digital health services (like iPads or wearables), plus the pricey WiFi bill in order to connect – and the advantage that these tools can provide isn't clear enough to them to be worth the cost. Others merely haven't been exposed to these tools, so they're blissfully unaware of their existence.
Lack of sustainable engagement. In general, consumers are less inclined to use digital health solutions long-term due to several factors, such as denial of their condition(s),

lack of incentive

or proper justification to use them (often due to lack of encouragement, clarity, and specific guidance from their health care providers), confusion around payment (since they're used to copays for medical services, they don't want to pay upfront for these tools), or they just generally want to avoid making significant lifestyle changes.
Uncertainty. Many people – not just older adults – feel that there's not enough hard evidence around digital health solutions, they don't see their true value, or they have concerns surrounding their data or privacy. Others aren't sure or can't decide which option(s) to choose, especially when there's such an overwhelming number available (over

165k mHealth apps

, as of 2015), and the fact that most doctors today are reluctant to prescribe specific tools or platforms (for reasons we'll get into momentarily).
Behavior change is hard. Adjusting behavior and adopting new habits is extremely tough for anyone, let alone those in their golden years that have become very set in their ways. As such, it's logical that seniors have a hard time embracing new habits and routines via technology. Learn more in

our recent in-depth piece

on this very topic.
Solutions: Helping seniors embrace digital health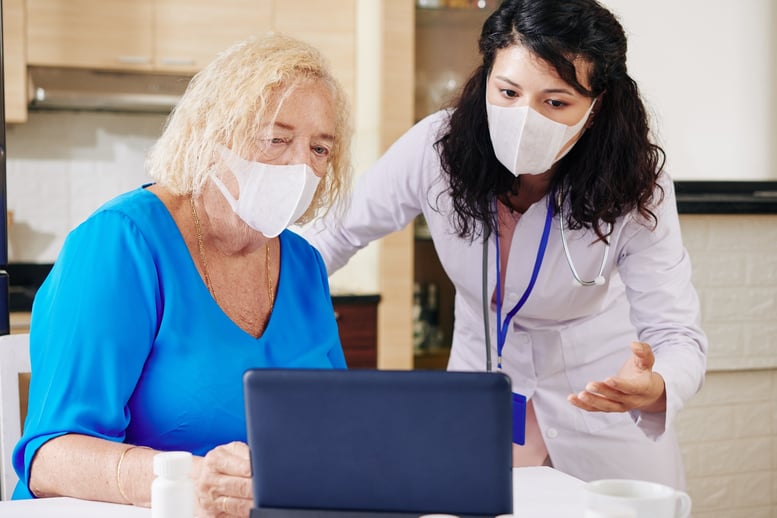 How can we bridge the digital divide, and help more older adults collectively adopt and embrace digital health solutions going forward? While again, there's no perfect answer, one study found that "perceived usefulness, compatibility, facilitating conditions, and self-reported health status significantly and positively impact" older adults' intention to use smart wearables. In other words, for seniors to embrace digital health solutions, they need to not only understand how to use them, but to truly see their value and benefit.
Forming new habits and behaviors is always a challenge, especially in the beginning, but the end result will be well worth it. According to Dr. Greg Weidner of the Carolinas HealthCare System, when it comes to adoption, "You really have to simplify digital health solutions, so they make it easier for patients to do the right thing. You have to take into consideration that not everyone is digitally savvy and avoid introducing the additional barrier of understanding complex technology."
For now, when it comes to helping seniors adopt digital health solutions, there are two main jumping off points: more senior-friendly design, and getting providers more involved – prescribing their patients specific options, and actively encouraging them to use these tools.

More senior-friendly design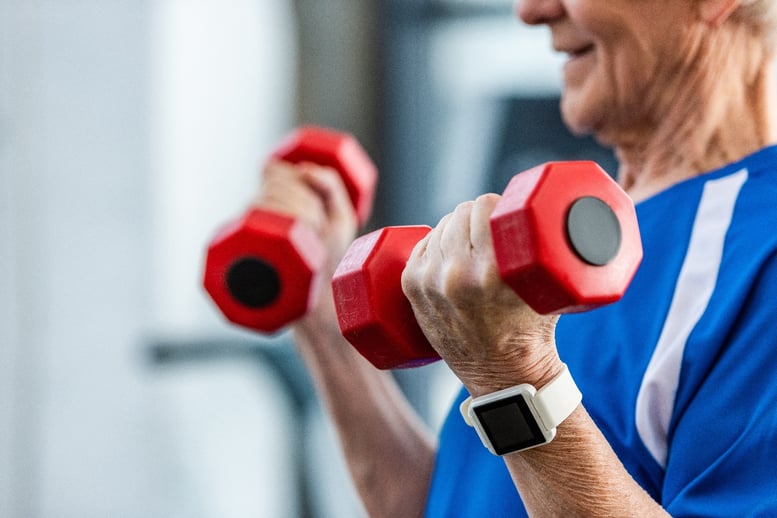 Let's face it – the majority of technology today wasn't designed with seniors in mind. The products available today need to pay closer attention to seniors' unique needs and abilities. Designing more senior-friendly UX within digital health solutions – especially for those with vision and hearing impairment – would help immensely when it comes to adoption.
Certain factors should be considered, such as:
Packaging that includes some form of training, and explains how they can get the most out of these products, access support, troubleshoot, and otherwise
Proactive engagement, such as helpful reminders and nudges to take action
Gamification components to incentivize use and exhibit the value of these tools
Personalized care plans, suited to each individual patient's needs
Wearables can be great, as they typically require minimal training to use and often don't require manual input
Increased secure communication options, so patients can speak directly with their health care providers more often
More holistic, all-encompassing solutions –

over 50% of recent mHealth apps

have narrow functionality
Physicians can play a more active role in adoption
Wouldn't you be much more likely to use digital health solutions if your doctor prescribed them to you? Unfortunately, there are a number of reasons why physicians today are less inclined to officially prescribe digital health tools and/or apps to their patients. The visual below depicts some of the most common challenges to widespread provider prescriptions of mHealth apps:
Source: IMS Institute for Healthcare Informatics, 2015
When physicians prescribe their patients with specific digital health options, it can definitely make a difference, especially when it comes to apps. According to research by the IMS Institute for Healthcare Informatics, "The typical 30-day retention rates for mHealth apps prescribed by a provider are 10% higher than average and 30% higher for fitness apps." But it shouldn't stop there – physicians should play a more active overall role throughout the entire adoption process.
Not only by prescribing specific tools and showing their patients exactly how to use them – as well as the benefits that patients will derive by using them – but also by continuously encouraging their patients to use these tools. They should also be closely monitoring the data gathered on their patients from these tools, and making decisions accordingly. This, inherently, helps them to provide their patients with better quality, more personalized care. Essentially, the more active the providers' role in this process, the more likely older adults will be to adopt and embrace these tools.
Digital health is the future of health care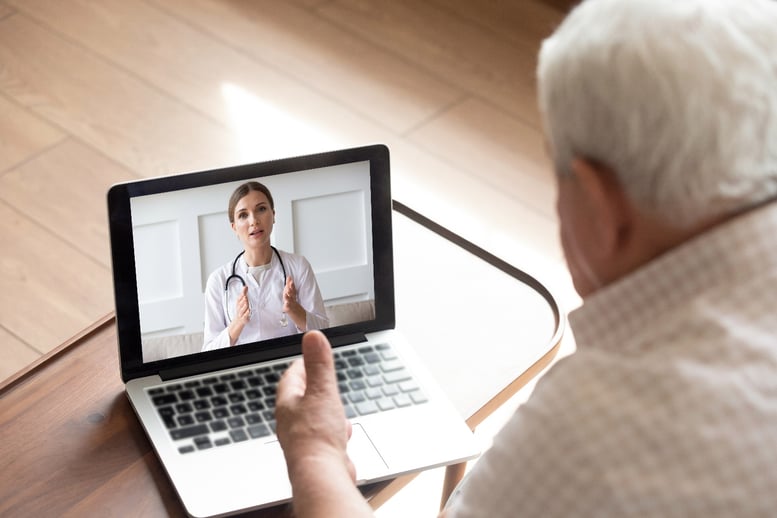 Though digital health solutions are still relatively new, their potential is vast, and they will undoubtedly play an incremental role in the future of health care, especially when it comes to helping older adults independently maintain optimal health and wellness. There's still work to be done – the number of mHealth clinical trials, for example, more than doubled over the last few years, and digital health-related research today continues to expand tremendously.
Hopefully soon, with more clear-cut evidence and results, older adults – as well as everyone else – will begin to see the full potential that these solutions have to offer, so we can adopt them more widely as a society. Shifting the paradigm certainly won't be easy, but it will absolutely be worth it – as patients, doctors, and the rest of the health care ecosystem stand to benefit immensely from these tools and platforms. We look forward to a new era of more empowered, hands-on health care for all, and seeing where this technology will take us in the "new normal."